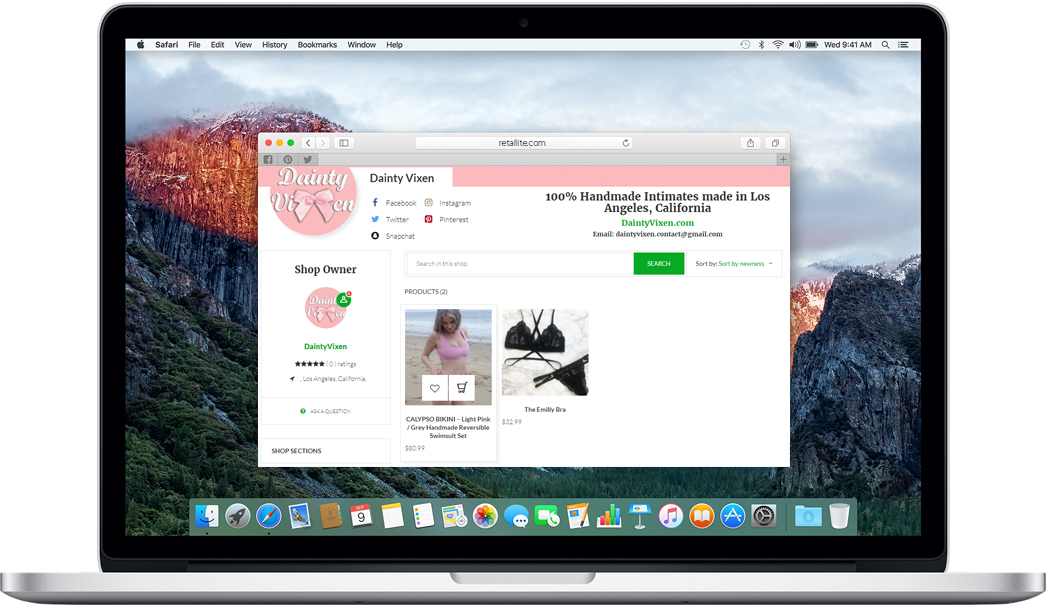 Start selling your products on Retailite.com!
Get 85% commission for every sale
Accept payments by Credit Card, PayPal, Amazon Payments, Venmo, Apple Pay, and more. We'll pay the processing fees!
We'll pay the PayPal Fees to send you your earnings
Sell your products as an individual or a business
Unlimited Free Listings that don't expire, so you won't have to relist them time and time again
Users and other stores can favorite your products and your store, contact you publicly and privately, add you as a friend, and more
Manage your commission, products, orders, and more through your Seller Dashboard
Make and schedule coupons
Receive customer ratings and reviews
Control your product's tags, add related products, and more
Control your product inventory, packaging, shipping weight and dimensions, attributes and product variations, and more
Control your store's branding with a store profile – add links your website, social media profiles, and more
Sell to all countries USPS ships to and accept foreign currencies
Get free search engine AND social media traffic to your products from Retailite's social media accounts and web presence.
Get professional help listing your items
Currently accepting US sellers only
Sign up here under "Register" and make sure to check the "Apply to become a vendor" box.
Add a cover image, profile picture, description, and more on your Seller Dashboard. List as many products as you want, add friends, and favorite products. Full html is enabled so you can customize your store exactly how you want it.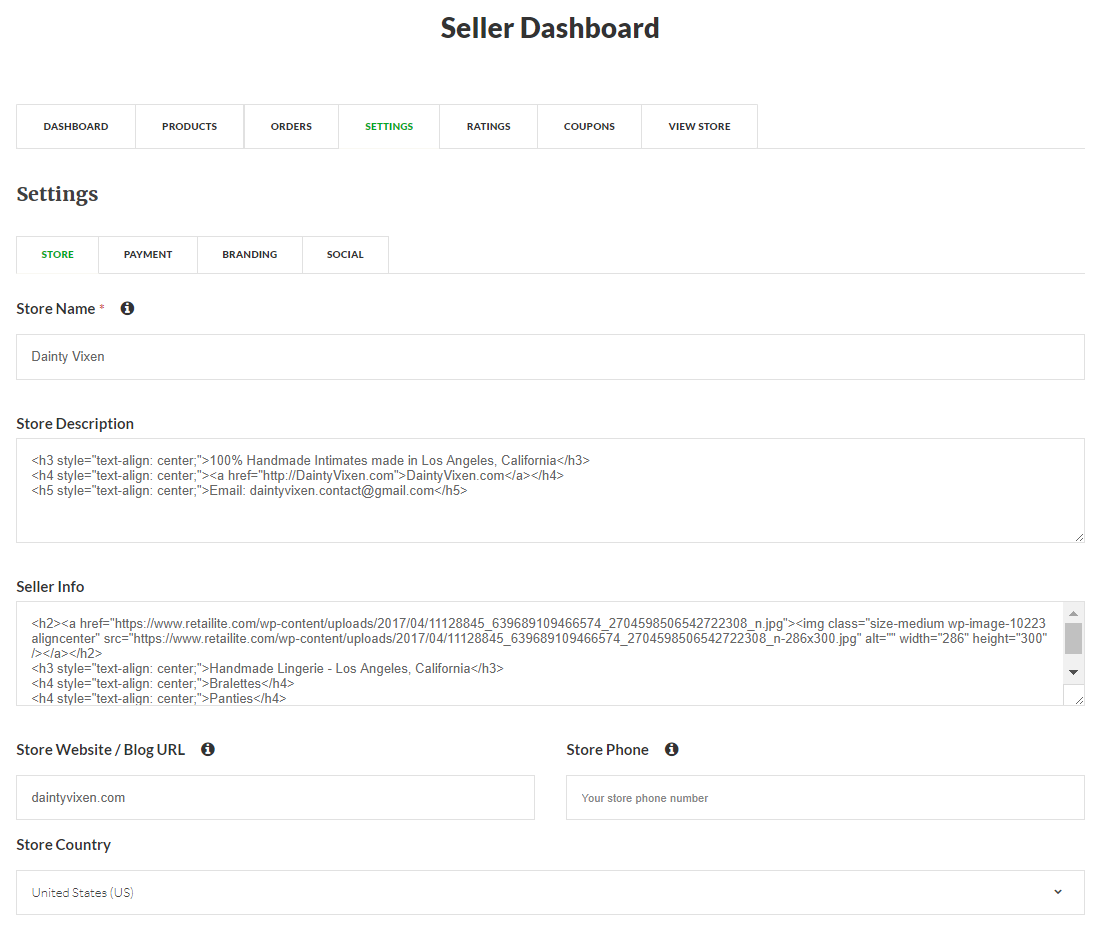 Add your PayPal email and get paid. For the first order we require proof of shipment for payment.
No Hidden Fees!
Retailite charges 15% of each sale. That means you get 85% of the product's revenue. For example if your item sells for $100, $15 goes to Retailite, and the rest is yours. We'll even cover your Stripe / PayPal / Amazon Pay processing fee AND the fee to send you your money. The only other expense sellers are responsible for is packing and shipping items, which you can include in your prices. Since Retailite pays the payment processing fees as well as the fees to send you your comission, we require that the lowest price you can charge for a product is $10 to ensure we aren't losing money.
Mobile Friendly
Retailte.com is fully optimized for mobile devices, so you can log in and check your account or post products from anywhere!
Sell Physical Products
Handmade items
Women's Clothing
Men's Clothing
Hats, Gloves, and Scarves
Leggings, Socks, and Underwear
Bags, Purses, and Wallets
Toys
Fashion Accessories
Sports and Outdoors products
Jewelry & Watches
Home Decor
Phone Cases and other Accessories
Custom products
More
Sell Downloadable Products
Software
Plugins
Themes
Fonts
Music
Photos & Videos
More
Get Your Products Posted on our Social Media Accounts
Leverage your own social media, blog, or other networks, in addition to getting FREE impressions from Retailite.com on your products! With your permission, we'll post your products to our social media accounts to get more views and sales. You'll also get Google and other search engine traffic as well.
Email Support
Since this is a new feature on Retailite, we will personally work with all new sellers to ensure their listings are formatted properly and optimized for sales. This will include, but is not limited to helping users complete their listings, edit their store pages, listing their products on our social media accounts, optimizing their products' search engine visibility (SEO), and any other general help that is needed to boost traffic and sales. If you succeed, we succeed, so we will do everything in our power to help you. Our Pinterest alone has over 10,000 followers, and we work hard to grow our social media accounts on a daily basis, so your audience will grow whether you have time to chip in or not.
Restricted Products
Adult (18+) products
Illegal products (drugs, stolen goods)
Drug Paraphernalia
Alcohol
Foods or beverages
Medication
Medical Devices and Accessories
Diet Pills or Supplements
Weapons or imitation weapons
Pirated software or copyright software without the explicit written permission of the copyright holder
Knockoff or counterfeit merchandise
Cleaners
Hazardous products
Dangerous products
Flammable products
Gasoline, oils, and other chemicals
Batteries
Laser Pointers
Hoverboards
Electronics
Currency of any type
Gift Cards and Cash Equivalents
Cryptocurrencies
Gambling & Lottery
Lock picking devices
Lighting
Offensive products
Plants, Plant Products
Pesticides and poisons
Recalled products
Subscriptions and Periodicals
Tobacco or Tobacco-related products
E-cigarettes or related accessories
Warranties
Service Plans
Contracts
Guarantees
Automotive parts
Cosmetics (unless certified organic)
Skin or Haircare products (unless certified organic)
Lotions, soaps, deoderants, or other toiletries (unless certified organic)
Multi-level marketing products or memberships
Animals and animal products
Recycling electronics
Surveillance equipment
Read the Seller Terms of Service to learn more.